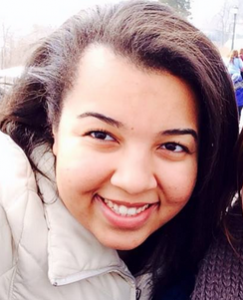 Name: Emma Kioko
Class Year: 2015
Major: English
What's happening? We'd love to hear how your internship is going! This summer I'm participating in the Moore Undergraduate Research Apprentice Program (MURAP) at the University of North Carolina Chapel Hill! MURAP is an intensive summer graduate level research program that prepares undergraduate students in the humanities for entrance into PhD programs and eventually the professoriate. The backbone of this summer is a two month research project, directed by mentors from various disciplines at UNC. My mentor is Professor James Coleman from the English department. My research this summer concerns the ambiguity of freedom in Toni Morrison's Beloved. In addition to Morrison's novel, I will be looking critically at complex understandings of the term 'free' in the African-American psyche- drawing connections between Morrison's neo-slavery narrative and the modern and problematic emergence of the prison industrial complex. Ultimately my research asks the question, "What does it me an to be free in America?"
In addition to full-time research, the program provides an intensive GRE prep class (math is a LOT harder than I remember), a weekly communications skills workshop (too prepare us for our presentation at an academic conference towards the end of the summer), and a weekly writing workshop (to assist with the written portion of our research). There are also a number of graduate students on the MURAP staff and they are proving to be a great resource to talk to while I begin sifting through graduate programs. Though today marks only the second week of the program, I have already started building great relationships with fellow students poised to begin the long journey to academia, made great breakthroughs in my research topic, and fallen in love with the town of Chapel Hill! And of course, while this summer is off to a great start, I can't wait to get back to Bryn Mawr in the Fall!
How I heard about my internship: Research, research, research!
Why I applied for my internship: This program has EVERYTHING. It not only provides free housing, GRE prep, grad school counseling and support, mentorship, and various professional workshops but it also comes with a hefty stipend and invaluable research experience!