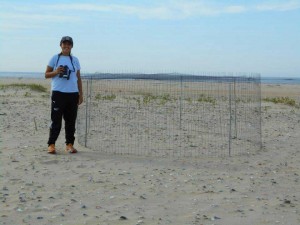 Name: Sofia Oleas
Year: 2015
Major: Biology and Psychology
What's happening? We'd love to hear how your internship is going. I learned how to spot Piping Plovers, an endangered shorebird, on the beach and how to find their nests. Along with the other interns, we learned how to put up an enclosure to keep the Piping Plover eggs safe from predators such as the Greater Black Back Sea Gull and red foxes. I monitored nests daily, performed routine truck maintenance, and searched for sea turtle crawls or stranded marine life. Monthly meetings have revealed the various positions necessary to run a wildlife refuge and have provided valuable insight for career paths. Living at the Chincoteague National Wildlife Refuge wasn't all work, I enjoyed swimming at the beach and walking the local trails. The peak tourist season occurred when the famous Pony Walk happens. This is a week long event when the ponies are corralled from both ends of the refuge and then swim into the town of Chincoteague to be sold. The enthusiasm in the air was evident and the sunrise was beautiful. However, one of my most memorable moments occurred when we visited the beach after hours and experienced an ocean of bioluminescence that was most prominent when waves crashed. The ocean was beautiful; I didn't think to take a picture or video because I was so mesmerized by the event. Overall I can identify over 30 species of shorebirds and more than 35 species of waterfowl. I can feel comfortable using binoculars, scopes, and using either to read tags on the legs of birds. This internship has taught me more skills than I could have imagined and I had the chance to work alongside some truly understanding peers and wise staff members. I can't wait to see what comes next back at Bryn Mawr.
How I heard about my internship: Lantern Link lead me to a website that provided this internship as a search result.
Why I applied for my internship: I wanted to learn more on-the-field skills.