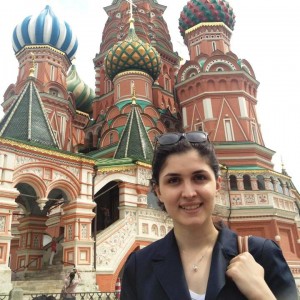 Name: Gizem Aydin
Class Year: 2014
Major: Economics
What's happening? We'd love to hear about your internship: I am working in the Office of the Commercial Counselor in the Turkish Embassy in Moscow, Russia. I spend most of my time there by helping with tasks that arise during the day, answering phones once a week (everyone has a day where they answer phones), entering data on spreadsheet documents, and observing what is going on in the office.
We tend to have a lot of guests that come for information or to meet with the commercial counselors. I follow up on weekly e-mails that give information about new economic activities, people who are looking for jobs, companies with different proposal documents. While I am occupied with my internship for most of the day, I try to improve my Russian skills in the remaining time, so I try to be involved in different cultural activities and see new places in Moscow. I've been exploring different parks (that is where people socialize and get a break from the hot weather here), keeping in touch with my former host family (from last fall when I studied abroad here), and will soon visit the Moscow Circus. Unfortunately most of the theater performances in Moscow start in September, so I have not been able to go see a play here yet. Nevertheless, it has been a great experience being here.
I am about to start the 7th week of my internship, having moved in to a new apartment earlier this week. My time here has gone pretty fast, and I am looking forward to the following weeks!
How I heard about my internship: I have visited the Commercial Counselor's Office last fall when I was studying abroad in Moscow.
Why I applied for my internship: I applied this internship to explore my interest in Russia – Turkey relations. I am doing this by working in a government office abroad, which provides me with the opportunity of observing trade activities and learn about a variety of processes in Russia more closely. I am able to observe the working environment in a Turkish ministry office abroad while keeping up with Russian language.