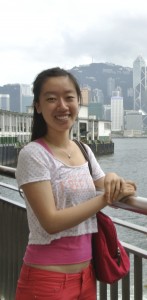 Name: Wei Lu
Class Year: 2015
Major: History
What's happening? We'd love to hear how your internship is going: I'm teaching American history at Summerbridge Hong Kong, a non-profit organization aims to help underprivileged secondary school students in Hong Kong to study English, as well as helps them build confidence and learn other life skills. The students are highly motivated but have limited resources. We teachers not only teach them various academic classes, but also teach sports/electives (such as badminton and dance), do different activities with students, and organize special events for students.
How I heard about my internship: Summerbridge Hong Kong is the only overseas branch of Break Through, an American non-profit organization aims to help underprivileged students attend college. I found this internship on Break Through's website.
Why I applied for my internship: I am an education minor, and I plan to be a teacher, so I want to learn how to teach history and ELLs in real classrooms. By doing this internship, I can actually teach classes and communicate with other teachers. I also want to know how I can know my students better and how to inspire my students. Summerbridge Hong Kong creates an atmosphere that teachers and students are very close since we spend a lot of time together.