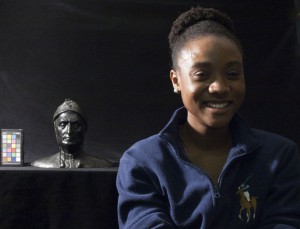 Name: Samone Rowe
Class Year: 2014
Major: History of Art
What's happening? We'd love to hear how your internship is going: This summer, I am working within the College's Special Collections. My position requires me to wear many different hats. Some days, I assist the Art and Artifacts Collection gather, photograph, and catalog materials for an exhibit on the Deanery, the residence of college founder M. Carey Thomas and her partner, Mary Garrett. We hope to have the exhibit realized in 2015. Other days, I find myself in the college archives, organizing the alumnae scrapbook collection and gazing at the personal histories of past Bryn Mawr students. Throughout the entire summer, I've been working on a digital exhibit surrounding student scrapbooks and the college's history for the Albert M. Greenfield Digital Center for the History of Women's Education. As I have never built an exhibit before–let alone a digital one–the process is new and challenging, but exciting all the same. My time spent with Special Collections these past few months have in valuable, and I'm both fortunate and happy to be learning about the digital and analog aspects of managing an art collection.
How I heard about my internship: I found out about the Special Collections position under the Summer Funding section of the college's website.
Why I applied for my internship: I applied to work with Special Collections this summer to gain some insight regarding potential art history-related careers to pursue after graduation. Additionally, the opportunity to learn more about this history of the college interested me greatly.