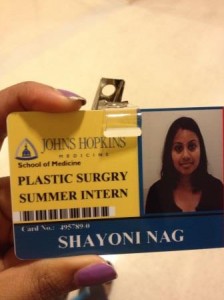 Name: Shayoni Nag
Class Year: 2016
Major: Psychology / Pre-Med
What's happening? We'd love to hear how your internship is going: For the summer, I got accepted to be an Undergraduate Summer Clinical Research fellow at the Johns Hopkins University Hospital. Here, I am working as a part of the clinical research team in the Plastic Surgery department under the guidance of Dr. Justin Sacks.
Living in Baltimore has been a great experience, and being part of this amazing medical community has been a great learning experience. My first project was entitled "Mastectomy Flap Weight and Intraoperative Tissue Expander Fill Volume Predict Skin Necrosis in Breast Reconstruction." For this research project, we looked at various patient outcomes after a patient receives a mastectomy and breast reconstruction and strive to see what other factors and comorbidites are associated with a patient developing skin necrosis which is when skin and subcutaneous tissue necrosis occurs (tissue death). We just completed our abstract for this project, which I co-authored with second year JHU med student Georgia Yalanis under the direction of Dr. Sacks. We are in the works of completing a manuscript for this paper, as well.
I am planning to get involved in many other clinical research projects within the department of plastic surgery here, including looking at body dysmorphic disorder and rhinoplasty to looking at outcomes on reconstruction after post mastectomy radiation therapy. Aside from research, I have also been active in the clinic itself. From learning bedside manners and meeting with patients, to shadowing surgeons in the operating room itself. It has been really neat seeing the things I am studying in research being applied to the operating room. Seeing residents, medical students, and attendants all around me and learning from each and every one of them is an experience I could never gain from a textbook or classroom. This so far has been a tremendous experience, and has confirmed my desire to become a physician someday.