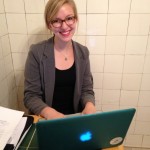 Name: Lauren Buckheit
Class Year: 2015
Major: Political Science
What's happening? We'd love to hear about your summer internship: I just finished up my internship with CeaseFirePA, a non-profit organization dedicated to taking a stand against gun violence. Throughout the internship I helped to manage the social media and website and spent the majority of my time organizing donations and fundraising for our Education Project.
A typical day starts with our Executive Director sending news stories that she wanted summarized and shared on the website. Then, I helped our Development Director log checks in a binder and on the software, NGP. This helps us keep track of every donation, which is especially useful when preparing the yearly budget and applying for grants. While logging the donations, I also updated each donor's profile noting when we last called or emailed them, and whether or not they had RSVP'd to an upcoming event. Frequently, I also made pages of potential donors for the organization to contact.
Though it may not seem like the most exciting work, fundraising is key to keeping a non-profit open and knowing I was making a difference made the at times tedious work that much easier.
How I heard about my internship: I found my internship by reaching out to Bryn Mawr alumnae who worked in non-profits in the Philadelphia area. I highly recommend reaching out to any alums working in a field that interests you.
Why I applied for my internship: I applied to work at CeaseFirePA because I knew the small size of the organization would allow me to get an immense amount of experience, not just in fundraising but in how to run and manage a non-profit.