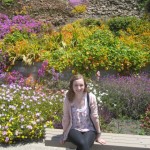 Last week, I had the opportunity to attend a workshop in the San Francisco juvenile hall. I had been going to workshops in Solano, which is about an hour outside of the city, but I just got approved for San Francisco, so last week was my first time attending the workshops there. The other intern warned me that it would be very different from the Solano workshops, saying that the kids were a lot more rowdy and less interested in the program, so I braced myself for a different evening, but I ended up liking it more than Solano.
The kids were definitely more rowdy, but it was a much more casual, laid-back atmosphere, which I found refreshing. It felt like we were hanging out with the kids, rather than teaching them, and the other facilitators seemed to be enjoying themselves more. I met one woman who has been volunteering as a facilitator for 17 years, which I think is absolutely incredible. They all encouraged me to keep going, even when the workshops get difficult, and to just focus on connecting with the kids, rather than trying to "save" them. That's something I plan to keep in mind when I get discouraged in the future.
Back at the office, I've been spending most of my time translating the weekly topics into Spanish and dealing with all of the Spanish pieces that come back from the workshops. The volunteer who normally does translations is out of town for the summer, so I've taken on responsibility for anything written in Spanish and anything that needs to be written in Spanish. I'm reasonably fluent, but I'm not a native speaker, so this has been an interesting test of my language skills. I've already gotten a lot better at translation, though, which will certainly be useful for future jobs, and it's been a great way to keep up with my Spanish over the summer. I've also learned a lot of Spanish slang, which is interesting, if not particularly useful. It can be frustrating sometimes to try to translate an English idiom, or to decipher messy handwriting in a foreign language, but I know this work is important, and I'm glad I have a skill that's so useful and necessary to this organization.