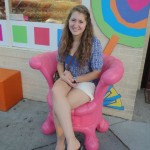 This week I'm in an Early Intervention (EI) classroom for children with autism. All early intervention is backed by the intermediate unit (IU) in that particular county. The children range in age from 3-6. After their time is over in the EI classroom, they are placed in general education kindergarten, an autism support classroom, or a developmental delay classroom. In order to qualify for services, the child's parents must ask the IU to be evaluated. The evaluation team consists of a teacher, an occupational therapist, a speech therapist, and a psychologist. Some tests are given and then a decision is made after observing the child on what services to administer to the child.
There are two classes, one in the morning and one in the afternoon. Much like the classroom I was in earlier this summer, it is a VB classroom meaning they follow the verbal behavior program and track students' progress on a VB-MAPP.  Both the morning and afternoon classes have seven students, one lead teacher, two PCA's (personal care assistants), and two paraeducators.
Because they are preschool age, they have a slightly different schedule than school age children—they are only at school for two and a half hours, have gym (sensory room, play outside or go to the gymnasium) every day, and have reinforcers that are age appropriate. Reinforcers include toys and a lot of physical interaction like hugging, squeezing and tickles. The children in the classroom are adorable and charming! It is great that they have been given the opportunity to be in an EI classroom because the earlier autism is noticed and addressed, the better the outcome for the student.
My experiences thus far have come full circle—I have gone through and tested teachers on the procedures that I then got to use in the EI classroom. It's rewarding to see the processes carried out and actually work on children with autism.