Name: Sarah Ferrieri
Class Year: 2015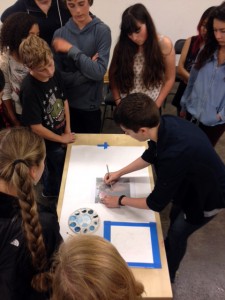 Major: History of Art
What's happening? We'd love to hear about how your internship is going: This week, I am finishing up my internship with Kala Art Institute's Camp Kala Program. Throughout my internship experience, I worked with three art instructors and practicing artists to foster a creative and pleasant atmosphere to teach the children participating in Camp Kala. We worked with three age groups: elementary students, middle school students, and high schools in a series of one week classes, each with a distinct theme and curriculum.
My favorite themed week was titled Graphic Novel. In this class, the kids explored self-publication through the lens of the graphic novel and even created a Zine comprised of their own one page comics which the other interns and myself compiled into one book for the students to take home. At the end of the week, as with every week, we installed student work in the gallery space and held a small exhibition for the families and friends of the students.
Working at Kala has been a wonderful experience. I will miss the enthusiasm and inspiration that the Kala staff brings to their organization once my internship comes to an end. This experience has allowed me to determine the aspects of arts education and arts programming that inspire me, and has exposed me to a variety of career paths in the art field that I might hope to pursue in the future.
How I heard about my internship: I found my internship with Kala Art Institute while searching through the internship search engine Idealist.org.
Why I applied for my internship: I applied for this internship because I felt Kala would allow me to further the explore arts education in a direct way by aiding the art instructors running the Camp Kala program. Additionally, Kala would also expose me to other elements of public art programming as I would be working within an art gallery and studio space.