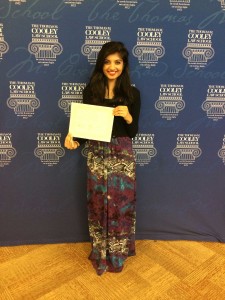 Name: Shamial Ahmad
Year: 2015
Major: English
What's going on? We'd love to hear how your internship is going! I spent the month of June as an intern at Cooley Law School's CLEO program in Auburn Hills, Michigan. CLEO is a pipeline summer program for college students who may possibly be interested in pursuing a future career in law. As an intern, I was able to meet with and interact with different kinds of lawyers, attorneys, and judges. I was also able to get a taste of what law school would be like by taking classes taught by faculty at the law school. I even got the Ethics award for Most Professional Conduct! I met so many wonderful people and really learned so much, I am so glad I was able to have this experience!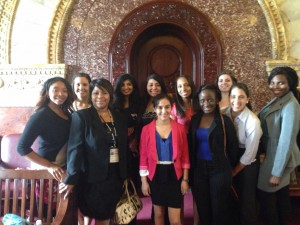 How I heard about my internship: I was looking for summer programs and internships that would allow me to explore future professional avenues. I always have been interested in law but I just didn't know much about it. My friend suggested I apply to the CLEO program.
Why I applied for my internship: Being at Bryn Mawr has encouraged me to step out of my comfort zone and explore new avenues and interests, even if it's a little scary. I didn't know much about law or the law profession and that was a little intimidating, but I'm so glad I applied for this program and went to Michigan for such an amazing experience that really gave me insight into something new.