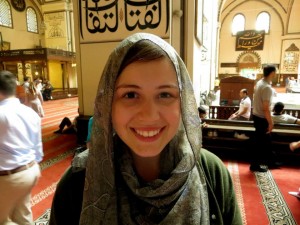 Name: Joanna Birkner
Year: 2016
Major: History, Middle East Studies Concentration
What's happening? We'd love to hear how your internship is going! This summer, I received a State Department Critical Language Scholarship to intensively study Turkish for eight weeks. I arrived in Bursa, Turkey's fourth largest city, a little over two weeks ago and have been very busy ever since. Every day consists of 5-6 hours of Turkish class hosted by Ankara University TÖMER and a cultural activity or free time in the afternoon. Cultural activities include Iznik ceramic painting, cooking classes, and visits to local museums and Turkish bathhouses (hamams). CLS is primarily an intensive language learning program and my Turkish is improving every day. I live with a Turkish host family, have Turkish friends, and had to sign a pledge on my first day of class promising to speak only in my host language. It has been challenging but incredibly rewarding so far. I'm eager to explore this beautiful city for another month and a half as my language skills progress!
How I heard about my internship: From my Turkish Professor at UPenn. Bryn Mawr also offers a CLS info session in the fall.
Why I applied for my internship: I have been studying Turkish in and out of the classroom for the past three years but I was looking for a comprehensive program to improve my grammar and speaking skills. CLS fits an entire year of college level language coursework into one summer. I am a history major with a focus on late Ottoman studies and I hope to conduct research in Turkey. I am also interested in working for the State Department one day, and CLS has opened many doors for me. Best of all, costs of airfare, tuition, room and board, visa fees, and a living stipend are all covered by the program!