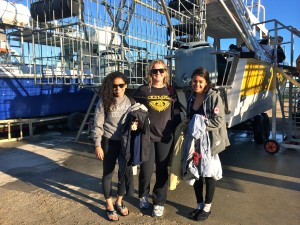 Name: Genesis Feliz
Class Year: 2015
Major: Biology
What's going on? We'd love to hear how your internship is going! I recently got back from my internship this past week and I'm already missing it! I was an intern at the South African Shark Conservancy in Hermanus, South Africa. I spent most of my time working on my own research project on tonic immobility, cage diving with Great White sharks, fishing, whale watching, and working on many other research projects which included one on marine debris. The highlight of my internship experience was catching my first shark (a leopard catshark) with a rod and reel and tagging it and recording various information for research purposes.
How I heard about my internship: An email sent out by a professor in the BMC biology department.
Why I applied for my internship: I applied for this internship because I wanted a research experience in the marine biology field. I've always had an interest in marine biology being from Florida and I thought that this could be a great opportunity to have a better insight as to what marine biology research is like. I also plan on applying to vet school; working with marine life gave me a new perspective to different kinds of animals that I have not been exposed to.