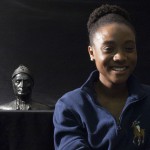 With my final year of college rapidly approaching, I have been thinking immensely about how I would apply my History of Art degree after graduation. Because attending a liberal art college has equipped me with a wide variety of skills, narrowing the list of potential careers is rather arduous. Thank goodness for my position this summer in Bryn Mawr College's Special Collections, as I have had the opportunity to explore a myriad of job types surrounding the visual arts.
On Mondays and Tuesdays, I devote my time to working in the Arts and Artifacts Collection. This summer, the department is gathering items around campus that once belonged to President M. Carey Thomas and her partner, Mary Garrett, in hopes of creating an exhibit about the Deanery, the women's residence for many years. They collected an astounding number of precious items for their home—chairs, tables, dressers, prints, vases, lamps, and much more. Working alongside fellow students, both of the undergraduate and graduate levels, has provided me with a great amount of experience handling art and decorative objects. Additionally, we're responsible for photographing, measuring, and inputting information to be viewed on TriArte, the TriCo's art database. Our responsibilities, particularly photographing, are exciting and new, and I'm ever-so-grateful for the experience.
My focus shifts on Wednesdays and Thursdays towards digitization, the process of converting information and works into digital formats. Another position of mine is within the Digital Archives to reorganize its expansive collection of alumnae photo albums and scrapbooks. This mostly involves cataloging, crafting custom boxes, and rehousing. My favorite benefit of this position is the ability to explore each of the scrapbooks and discover how Bryn Mawr College has—or hasn't—changed over the years. Gazing at the personal words, photographs, and Bryn Mawr memorabilia conjures a connection within me to the school that completely lacked at the start of the summer. It's refreshing to reflect upon how I contribute to the college's legacy.
I utilize Fridays to complete what is both the most challenging and exciting task entrusted upon me this summer: completing a digital exhibit for the Albert M. Greenfield Digital Center for the History of Women's Education. I spent the earlier half of the summer acquainting myself with the website and easing accessibility for visitors. Currently, I am researching and organizing information regarding lesser-known aspects about the college. An incredible amount of work goes into planning an exhibit, but I find the process enthralling. It implements many of the practical and critical skills I've honed at Bryn Mawr and newly acquired this summer. Creating this exhibit, in addition to working within the Digital Collections and Arts and Artifacts, has provided me with amazing insight towards potential library- and archive-related careers following graduation. While I'm sad that this experience is coming to an end, I'm eager to apply what I've learned towards my future art historical endeavors.