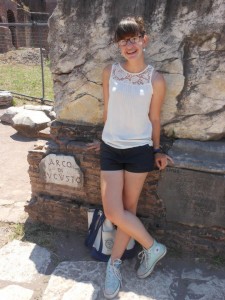 Name: Zoe Fox
Class Year: 2014
Major: Classical Languages
What's happening? We'd love to hear how your internship is going: I'm working on an archaeological dig at Sant'Omobono, located in central Rome. The site was a religious sanctuary in the Archaic and Republican periods, was occupied throughout the Middle Ages, and was rediscovered and first excavated in the Fascist era. I have now completed four weeks of my seven-week field season, and have excavated everything from intact medieval clay vessels, to waterlogged archaic Roman material far below street level, to fascist orange juice bottles. It's very exhausting, extremely hot, and I've pickaxed through more dirt than I thought possible, but it's worth every second to discover so many amazing artifacts!
How I heard about my internship: The head of the excavation, whom I had already met on my first dig in Italy, gave a lecture at Bryn Mawr's Classics Colloquium this past semester about the site. I was so enamored by his description that I immediately asked if I could join the excavation team.
Why I applied for my internship: Although I'm a Classical Languages major, I do a lot of work in the field of archaeology as well, and I want my studies to remain as interdisciplinary as possible. Although I have previously excavated in the suburbs of Rome, I wanted to dig right in the city center, because the archaeology within Rome itself is so unique. Some people ask me why I would want to dig in the dirt all day in the Mediterranean summer heat, but I think excavating is incredibly addictive- there's nothing like coming upon an amazing artifact, and pulling it out of the ground with your own hands!