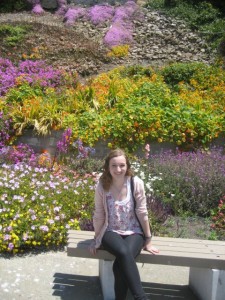 Name: Emily Adams
Class Year: 2014
Major: English (Russian/Spanish minors)
What's happening? We'd love to hear how your internship is going: I'm interning at The Beat Within in San Francisco. The Beat Within is an organization which offers writing workshops to incarcerated teens and then publishes their writing in a bi-weekly magazine. I've been typing up and editing the handwritten pieces from the workshops, as well as assisting with the printing and distribution of the magazine and helping out with office tasks. I can't help out with the workshops until I'm 21, so I'm eagerly looking forward to my 21st birthday in July!
How I heard about my internship: Extensive Google searching!
Why I applied for my internship: I've always been interested in writing and prison issues. Working as a tutor at the Writing Center and volunteering as a writing mentor for incarcerated adults have allowed me to develop those interests, and I really wanted a summer internship which would allow me to continue pursuing both of those passions. I also spent last summer in San Francisco and really wanted to be here again. With all that in mind, The Beat Within was the perfect fit!