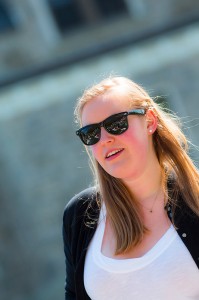 Name: Lianna Reed
Class Year: 2014
Major: Political Science and French
What's happening? We'd love to hear how your internship is going: I'm in Atlanta (Hotlanta), Georgia working as a Human Rights Program Intern at The Carter Center. I am mainly working on the project The Carter Center has in the Democratic Republic of the Congo on mining governance, but we are also hosting a conference in two weeks known as the Human Rights Defenders' Forum and I have been exchanging rapid emails with our Congolese, Senegalese, and South Sudanese delegates.
How I heard about my internship: I heard about The Carter Center during my search for internships in the human rights field, which I began during my first year at Bryn Mawr.
Why I applied for my internship: I applied to The Carter Center because of their specific work on human rights and the Democratic Republic of the Congo. The Carter Center is committed to civil society organization participation for their field work and it was important for me to work with an organization that understood who and what they were working for.